Bachelor Degree Course Nanotechnology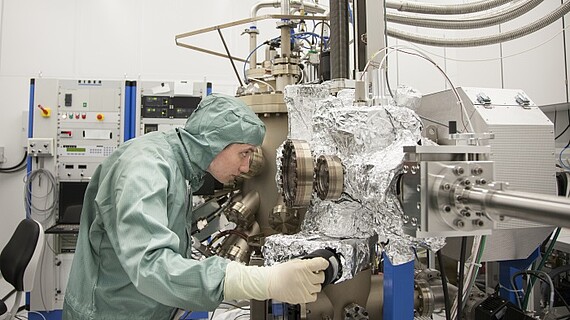 New examination information as of winter semester 22/23
For the winter semester 2022/2023, all examination regulations were adapted to the new regulations in the General Part of the Model Examination Regulations. See HERE
Information on the Bachelor Degree Course Nanotechnology
In addition to the basics in chemistry, electrical engineering, mechanical engineering and physics, the fundamentals of nanotechnology are taught in scientific and engineering specialisations. In addition, specialisation offers students the opportunity to acquire more in-depth specialist knowledge in a selected field of technology at an early stage and significantly increases the vocational qualification character of the Bachelor's degree. The integration of academic achievements in the form of internships, laboratories and field trips into the course of studies bridges the gap between theoretical knowledge and industrial application of what has been learned. By working on individual study achievements in small groups or as individual work, training and promotion of social, communicative and organisational skills is provided, which are indispensable when entering professional life.
Duration: 6 semesters
Course Start: Winter semester
Degree: Bachelor of Science (B.Sc.)
Number of students: Approx. 180, approx. 40 beginners per year
Primary Language of Instruction: German
Application and Study Start
Detailed information on the admission requirements for the Nanotechnology course can be found on the central website.
You will also find documents on the application process, the award procedure and deadlines as well as the online application form on the central website. In addition, Leibniz University Hannover has a number of preliminary courses and introductory events for new students, which are listed on the websites of the central student advisory service. For nanotechnologists, the mathematics preliminary course for mechanical engineers is recommended.
Attention: Pre-courses take place before the start of lectures! Participation is strongly recommended!
Teaching Events
In the first three semesters of the bachelor's programme in nanotechnology, students are primarily required to attend basic courses. Therefore, the timetable is the same for everyone.
In the 4th semester, the great freedom of choice begins with two areas of specialisation to be taken (one natural science and one engineering) and the elective field of specialisation. Students must therefore prepare their own individual timetables. Please pay attention to the average workload of 30 LP per semester.
The timetables of the previous year can be used as an indication of which events there are in principle. Students have to register on StudIP in order to receive all information.
Important: Stud-IP allows you to compile your individual timetable. It is strongly recommended to register there, as participation in some exercises requires registration via Stud-IP.
Seminar Nanotechnology (from 5th semester)
Students should acquire in-depth knowledge in a specific field of nanotechnology by studying suitable scientific publications. For this purpose, a selection of topics is offered from which students can freely choose. During a lecture of approx. 25 minutes, the students should present this topic in an appropriate scientific form, focusing on both the scientific content and the presentation technique of the lecture.
If you are interested in the seminar: Please register with Stud.IP.
WiSe2023/24: Lecture topics will be assigned on 10/16/2023 13:15-14:45.
Seminar room of the LNQE (Room R001, Building 3430, Schneiderberg 39, 30167 Hannover).
The selection of topics can be viewed on the LNQE website and Stud.IP. See PDFs.
Intership
Towards the end of the studies, i.e. in the third year of study, an internship of 12 weeks is planned.
Companies in the fields of chemistry, electrical engineering, mechanical engineering or physics with one of the following fields of activity can be considered as internship companies (e.g. in Lower Saxony):
Manufacturing technology for micro- and nanocomponents
Use of nanotechnology in manufacturing processes
Semiconductor manufacturing
Manufacturing with lasers
Before starting your internship, please inquire at the internship office whether your choice of internship fulfills the criteria according to the examination regulations and can therefore be recognized for your nanotechnology studies. The Internship Office will be happy to advise you in advance. However, please make sure that you plan enough time in advance to make your appointment!
Please contact the internship office of the mechanical engineering department directly for all matters concerning internships!
The following list consists of companies and institutes where students of nanotechnology have already completed an internship. This list is not complete. Companies that are not listed here may still be suitable:
The Career Service of ZQS supports students on their personal path from studies to internship to career:
Assessment of personal interests and competencies
Practical experience and career decisions
Job search and applications
Job interviews (digital and face-to-face)
Professional social networks (e.g. XING, LinkedIn)
Self-motivation in the application process
Programme Coordination
Dr. rer. nat. Katrin Radatz
Programme Coordinator

Address
Appelstraße 11/11a
30167 Hannover
For efficient processing of your enquiries, please always state your full name, matriculation number, degree programme and semester, and use their stud.uni-hannover address. If you have questions about the PO or module services, please also state the PO valid for you and the exact module name. In case of urgent inquiries, you are also welcome to mention a telephone number.